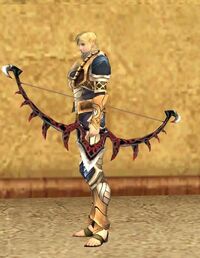 The Critical Bow is a Rank 5 longbow.
Equivalent ethereal version: Bloodsun Bow.
Statistics
Edit
Sold in: This item is not available in NPC stores.
NPC Price: N/A
Stats:
Upgrade Cost
Edit
See Weapon Upgrade Costs.
The total cost for upgrading this item to Lv10 is 19,730,000 Rupees.
Upgrading and enchantment
Edit
Ad blocker interference detected!
Wikia is a free-to-use site that makes money from advertising. We have a modified experience for viewers using ad blockers

Wikia is not accessible if you've made further modifications. Remove the custom ad blocker rule(s) and the page will load as expected.