Passive skill: Allows you to mount the creature.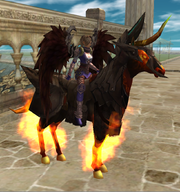 To use the skill:
Summon ridable pet as main pet, select it and use the "Mount/Unmount" button you can find in [alt]+[t].
In opposite to the timed mounts this feature does not have a cool down.
The Mount Speed of Nightmare and Unicorn is 260, and White Dragon - 280.