The City of Ruins is the main town in the City of Ruins and Marduka's Realm area on the main continent. It is located to the northeast corner of the area. It is a place meant for more senior characters, generally those who have reach Rank 6 or level 120.
City of Ruins has an old European port city look to it. It has white brick walls and buildings with wooden doors and beams. The buildings have red clay accents and a large dock complete with a ship extends from the east side. Only a handful of NPCs reside here compared to the previous town Rondo.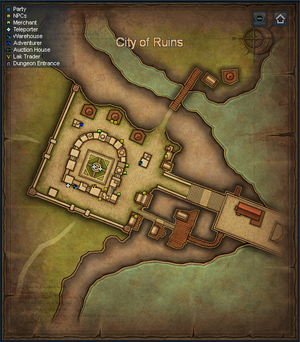 Category Quests by Location - City of Ruins not found
Ad blocker interference detected!
Wikia is a free-to-use site that makes money from advertising. We have a modified experience for viewers using ad blockers

Wikia is not accessible if you've made further modifications. Remove the custom ad blocker rule(s) and the page will load as expected.