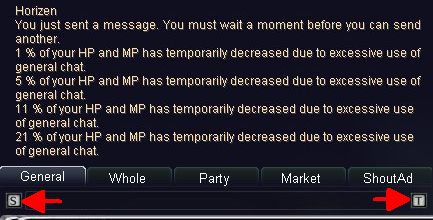 Using in-game chat you can communicate with individual players, members of your party, members of your guild or the wider community of online players. You can only communicate with players logged on to the same server as you.
Five chat tabs are provided and these may be customized to suit your needs. The default tabs are labeled
Whole
General
Party
Guild
Ad
The [T] button on the right toggles the visibility of these five tabs. The left most tab is the default chat view.
A Settings button [S] is located to the left of the chat input box. Use the Settings button to customize each tab.
The illustration highlights these two buttons.
It also shows that custom tab names can be assigned by the user.
The size of the chat window can be increased using the resize widget in the top left corner. You can scroll through the chat window by dragging the scroll bar or by rolling your mouse wheel.
Nuts and bolts
Edit
The name of each character using chat is underlined. Left click on an underlined name to automatically initiate a Whisper (a.k.a. private message or pm) to that player.
Via the Alt+F Messenger window you can add an avatar's name to a block list and all speech in every channel from that character will be muted.
Another way to block them is to target them, and right click the portrait picture and select block. (this is easier for spambots with long names of gibberish)

At the chat input box type your message and press enter to send. You can add a prefix at the beginning of the line to address your message as follows:
! to address every user on the same server as you. a.k.a. shouting!
$ to address only the Ad channel
# to address only your party members. a.k.a. party chat
% to address only your guild members. a.k.a. guild chat
"MyFriend to address only the character named "MyFriend" a.k.a. Whisper, private message or pm
Messages are color coded to identify the source of the message.
A message from a Gala-Net authorized Game Master (GM) is color coded orange whether the message appears in General chat or as a Whisper. Gala-Net employees will never ask you for your password.
The chat input box is also used to invoke a number of special actions. Some of these have a functional purpose while others are for simple entertainment. A prefix of / is used before such action commands.
Most of the actions accessed via the Alt+T Control window also have a chat line command highlighted in blue font within the tool-tip. Some chat line commands that are not as well documented are listed below.
Command
Action
Guild commands
/gleave
leave a guild
/gcreate guild-name
create a guild
For guild master/leader only
/gopen
open the guild management window
/ginvite player-name
invite a player to your guild
/gkick player-name
kick a player from your guild
/gpromote player-name
promote a guild member
/gdestroy
disband your guild
/screate team-name
create a siege team
/sinvite_gp player-name
assign a siege party leader
Party Commands
/pleave
leave your party
For party leader only
/pcreate party-name
create a new party
/pinvite player-name
invite a player to your party
/pkick player-name
kick a player from your party
/ppromote player-name
promote a party member
/pdestroy
disband your party
/pshare each
assignment of drops picked up by party members
/pshare random
/pshare turn
Commerce/Trade
/shop
open a shop/store
/trade
request a trade with selected player
Miscellaneous
/union
open the Combine window
/position
display your map coordinates
/add_denial player-name
adds player-name to your block list
/add_friend player-name
adds player-name to your friend list
Common Practice
Edit
Use the server wide broadcasting (! and $) sparingly. Don't repeat the same message over and over again.
For !-shouted chat there is no penalty for the first 3 messages but for the 4th, 5th, 6th, 7th message there is a 1%, 5%, 11%, 21% reduction in your HP & MP. The counter resets after a minute or two. So just avoid prefixing every message with a !
For $-advertising chat you are muted once you have posted (Lv/10) posts within a short period.
Abbreviations
Edit
Abbreviations are a way of life in just about any chat room and Rappelz is no exception. Several that you may encounter are:
ll+ee

Referring to skills, the first number ll is the skill level (a.k.a. SLv) and the second number, ee is the enchantment level of a skill card matching that skill. For instance, a 10+4 tamer is a summoner class character who has learned Creature Taming up to skill level 10 and who has successfully enchanted a creature taming skill card up to enchantment level 4.
This type of advertisement often appears in global or ad chat.
nn+oo
Nx

Somewhere in that ten-digit level range. For instance, someone between 20 and 29 would be 2x and someone between 80 and 89 would be 8x
nn.pp
abby

Abhuva, dungeon boss in Relics of Arid Moonlight
AE

Ancient Element
alt

Alternate character, i.e., not your main character
AOE

Area of Effect
avatar

Your character (a.k.a. toon)
BP,BPix

Blue pixie
bb

Bye-Bye
BK

Battle Kahuna, a Kahuna second job choice
blksm
brb

Be right back
brt

Be right there
BS

Battle Summoner, a Sorcerer second job choice
cc

Crowd control (i.e., stunning/freezing/slowing additional mobs that are coming towards you)
cbf

Can't be f**cked
cd

Cooldown time of skills
clean

Not upgraded (with cubes or at the blacksmith)
CM,cm

Chaos Magician (a Dark Magician second job choice), or occasionally Crystal Mountain, the location of Crystal Valley (see CV1/CV2)
CS
CTC

Creature Taming Card
cuz

or coz

Because
DA

Darkness Arrow
Can also refer to Deva Archers, a rare group of players who are mostly holy warriors / soldiers and use a bow. The suffix "S", "HW", or "K" refers to their class. (ie, DAS, DAHW, DAK respectively)
dc,DC

Disconnected
DD

Damage Dealer, a role in a dungeon party.
de

Dead end (a small room at the end of a hallway in a dungeon that has several mobs that spawn there)
dlvl

Delevel (to go down in levels)
DM,dm
DP,dp
DPLF

Dungeon party looking for. This is used by a dungeon party looking for more members to join them. It is usually accompanied by a level range, and also sometimes by any specific roles wanted as well as the roles of the people already in the dp. E.g., "DPLF lv6x want healer, have dd and tank". See also LFDP.
DPs,dps
ds,

Dark Spiral, A Chaos Magician skill
Dual Summoning, when a pet class is summoning 2 pets at the same time
Drop-only

Not purchasable in an NPC shop, this item can only be obtained from monster loot or from other players
ev,eva
farm
FB

Fireball or Fairy Bottle (Cash Shop only item)
ffs

For f**k's sake
FotW,FoW

Feast of the Wind (former Skeleton self-buff, now Odin's Fury)
fresh

A pet which is very low level (0-20) and has no JP spent (from "freshly tamed")
FTL

For the lose (less common than FTW)
FTW

For the win
gd

Good duel
gg

Good game or Good going (usually sarcastic)
gj

Good job (sometimes sarcastic)
gl,GL

Good luck or Guild Leader (unambiguous name for guild master - avoids confusion with Game Master)
GM,gm

Game Master (the people who run the game) or Guild Master, depending on the context
GMFB

Godmother's Fairy Bottle (Cash Shop only item)
GPots,G-Potato

G-Potato (The currency for the Cash Shop)
gz

Congratulations. Often seen in Whole chat after a job transfer
hawk
HB

Headbreak (strider fear skill)
hf

Have fun
HLP

High level pet
HOT
huna
hw,HW
ign

In-game Name (the name of your character)
imo, imho

In my (humble) opinion
inc

Incoming - Used to inform parties that a mob or group of mobs are incoming.
kite

to simultaneously use ranged attacks and to retreat to avoid being hit. Typically used on very strong enemies while soloing.
kk

Okay, cool
kos

Kill on sight
ks,KS

Kill steal - attacking a monster someone else is attacking when they're not in your party. When used during a party (often in a dungeon) though, KS can also refer to the "kill speed" of the party, or how fast the party is killing monsters.
LB

Lightning Bolt
lfg

Looking for group - not common in this game, you sometimes see new people from other games using this abbreviation.
LFDP

Looking for dungeon party, used by someone looking to join a dp. Those using this abbreviation usually include their class and level, e.g., "LFDP lv50 huna". See also DPLF.
Liki

Likirus (spelled differently different places, including Rikirus), dungeon boss in Crystal Valley
lock,Lock

Warlock, a Dark Magician second job choice
lol

Laughing out loud
M

Magic (usually as a preface to atk, def, res, or regen)
main

Main character
mob

A monster
MS

Meteor Shower, a Chaos Magician skill
mt

empty or mistype, depending on the context
NM

Nightmare
np

No problem
nvm

nevermind
ob,OB

Overbreeding or overbred
ofo

Oforia, dungeon boss in Relics of Arid Moonlight
omg

Oh my God
omw

On my way
Orni,Orth
OP

Original poster - the starter of a thread on the forum
P

Physical (usually as a preface to atk or def)
pass

Usually refers to a Hidden Village pass, but occasionally refers to a password
pc

Price check - not a very reliable way for obtaining a price estimate. Visit the Auction House instead.
pot

Potion
PvE

Player versus Environment
pw

Password
R Heal

Rapid heal
Reck

Recklessness. This refers to 4 different Kahuna skills, Recklessness of Fire, Recklessness of Thunder, Recklessness of Earth and Recklessness of Water.
Res

Resistance (usually when referring to your character information, and prefaced by m), sometimes Restoration, a cleric HoT skill, or Resurrection, see below.
rez,res

Resurrection, a cleric or blue pixie restore life spell, or refers to a resurrection scroll, a purchasable restore life targetable spell. Please note the cleric and blue pixie spells give back some experience points, while the scroll does not.
RP,RPix

Red Pixie
RP

Roleplay
RPW

Restoring Purified Water, a Kahuna heal over time skill
sala,sally
SB,sb

Soul Breeder, a Breeder second job choice
SH,sh

Shadow Hunter, a Strider second job choice
skel,skelly
skin

The graphic used for an item
sorc
SotW,SoW

Speed of the Wind, a Kahuna buff that increases MovSpd
sps

SpellSinger, usually favored over ss
sry

Sorry
ss

Stamina saver, screen shot and rarely SpellSinger depending on the situation (usually stamina saver, especially when capitalized)
SSS

Spiracle Shock Shot
stam
SW

Shamanic Warrior (orc targetable buff, used to be Strong Warrior)
ta,TA
tb,TB

Town Break - party members may mutually agree to take a break and Return Scroll back to town usually to unload loot and to empty their Chaos Necklace of Lak.
toon

Your character, a.k.a. avatar. Short for cartoon.
tp

Teleport (rarely used)
ty,tyvm

Thank you, Thank you very much
tx

Thanks
war,War

Warlock, a Dark Magician second job choice
Water

Restoring Purified Water, a Kahuna heal over time skill
wc

Wrong chat
WH,wh
WL,wl

Warlock
WTB,wtb

Want to buy
WTF,wtf

What the f**k
WTH,wth

What the hell
WTS,wts

Want to sell
WTT,wtt

Want to trade
Xbow,xbow
yw,yvw

You're (very) welcome
Chat Settings
Edit
Here are the various settings available when the [S] button at the left of the chat window is clicked. It's the same list for all 5 tabs.
You don't have to use the default names for each of these five tabs! e.g. you might create a custom label "Market" to better focus on Shop and AH notices.
You can add a prefix:
! to shout at every poor bastard using the same server as you!
# to address only your party members
% to address only your guild members
$ to direct your message to the Ad channel
(MyPrefix) to prefix every message sent by you from this chat tab with "(MyPrefix)"
User Chatting
Edit
Top level enable/disable of next level check boxes.
General Chat
Edit
chat from any character that is within the same visible range as is in effect when you have the Game Environment option slider for "Indicated Distance for Character" set to "Far";
(displayed in chat window as dark blue font for char name and white font for message body)
Auction House notices & Dungeon Siege notices
(displayed in chat window as yellow font)
anything broadcast to the entire server community usually using "!"
(displayed in chat window as dark blue font for char name and light blue font for message body)
Shout chat is enabled at Lv20 The in-game advice is correct.
anything announced to the Ad channel usually using "$"
(displayed in chat window as cyan font for char name and message body)
you only get a certain amount of adds a day
anything addressed by name usually using:
"toon-name message

(displayed in chat window as white font except for To:/From: prefix in yellow font)
Friendly Whisper
Edit
this is not whisper from a toon on your list of 32 friends.
Group Chatting
Edit
Top level enable/disable of next level check boxes.
Party Chat
Edit
anything addressed to your party by a member of that party usually using "#"
(displayed in chat window as green font)
Guild Chating
Edit
anything addressed to your guild by a member of that guild usually using "%"
(displayed in chat window as purple font)
System Message
Edit
Top level enable/disable of next level check boxes.
All system messages are displayed in chat window as white font.
describes any buffs your character receives
Auction house notices of a higher bid than yours having been placed; or a buy it now event
Basic Damage
Edit
damage received by your toon or your pet;
damage delivered by your toon;
your evasion of damage
Skill Damage
Edit
damage delivered using special skills & critical hit
Item Related
Edit
describes items & rupee gained or lost including rupee gained via "blue sell shop" sales.
damage delivered by your pet
creature missing it's target;
creature summon
creature recall
Ad blocker interference detected!
Wikia is a free-to-use site that makes money from advertising. We have a modified experience for viewers using ad blockers

Wikia is not accessible if you've made further modifications. Remove the custom ad blocker rule(s) and the page will load as expected.